by Julie Niehoff
Strolling the aisles at a pre-show of this year's Salon du Chocolat in London, I had the opportunity to talk with several of the United Kingdom's newest and most popular chocolate makers. Small businesses all, family-run and growing fast with the finest ingredients, distinctive flavors and extraordinary creative design.
They come from a wide variety in background and approach to the business side of their efforts. They all bring quality and distinction to the show floor. But several stood out, as small businesses, against the backdrop of better-known, established brands like Lindt. These "little guys" of a big industry had one thing in common — a deep and abiding passion for making chocolate. "I have rearranged my life to allow me to spend more time with chocolate," says Aneesh Popat, The Chocolatier. He is joined by his charming and supportive wife and his obviously proud mother at the show. Both have joined with Aneesh on this unusual journey to toward the upper crust of London's chocolate food chain in three short years. Once named one of London's Top 25 under 25, the now-26-year-old is commissioned by kings and queens, literally. His rise has been swift and substantial.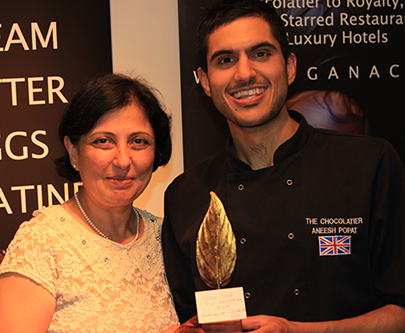 His mother beams holding up his latest award and sharing that she used to be a teacher. The love they have for each other and for their chocolate comes across, effortlessly.
When they offered a taste for me and for my husband who was taking photographs. I stood silently, eating the morsel and trying to find words. His wife said to me, "There is soul and spirit in what you are eating." And I thought yes, those are the words. But I only nodded, unable to convey my appreciation in complete sentences. Then, I watched my husband take out his wallet and buy several items. This is significant because all of the vendors were providing us with free samples. His purchase was deliberate, immediate, and I was not going to be the one to stand between him and that chocolate.
Others at the preview took the time to tell me about how they came up with various flavors, the moment they realized it was possible to make a living doing what they love, the struggles of starting a new business in an established industry and the wonder of success when it arrives.
Another small candy vendor, calling herself "Chocolately Claire" of A Little Piece & Love, shared that she started her now thriving business just a few years ago with fifty English pounds to buy wooden sticks for lollipops. Christmas a few years back she was short on funds to buy gifts for those on her list so she made candies for her loved ones, creating special designs for them according to their own interests. A chocolate gaming console for video game-addicted teen boys, Legos and Star Wars characters for others. (She's since been able to get licensing deals for those!) Chocolate vinyl album replicas for music lovers. Even a "Shipwreck in a Bottle" with golden chocolate sand and delectable skull and cross bones inside an apothecary jar.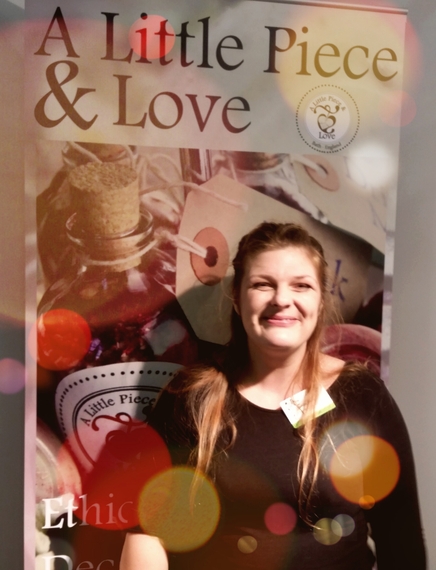 "These are for people who aren't amused by getting yet another chocolate Santa." What really stands out is that Claire's creative approach came from love for her friends and family and then grew into a highly specialized cottage industry making custom designed candies for various retailers and consumers alike. Her passion for the work is visible and edible.
Another inspiring story of success comes from Lauden Chocolate, recently voted Best Chocolate Producer by the Good Housekeeping Awards. The owners, Stephen and Sun, didn't even know they were nominated for the accolade and told me they were stunned to hear the news a few days ago. One bite and I was not on the trade show floor anymore. I was transported to a place I didn't even know existed. These beautiful, artfully designed chocolates were infused with natural ingredients. I had the passion fruit confection in my mouth when the floor and ceiling sort of dropped away and I stopped asking questions of the couple and just enjoyed every nuanced flavor the tiny morsel offered my taste buds.

Once composed, I asked Stephen about their beginnings. The couple started their business in a tiny apartment, with no money for a large refrigerator to keep everything fresh. So they fashioned an inexpensive air conditioning unit with duct tape and sheeting to convert a bedroom into a cool space to maintain inventory. They looked at each other and seemed to share a secret moment realizing how far they had come in just a few years, now served and sold in the finest restaurants and retail shops in the country.
It's a sweet story, and they laughed as they told me of silly fights and rocky times in the early days of the business. But then they both smiled so brightly when they shared a story of overhearing people in a pub talking about Lauden and how amazing their chocolate is, not having any idea that the owners were sitting at the next table. As he tells me this story, Stephen gets a dreamy far away sort of glazed look, remembering that moment and how great that proof of success was. Money and revenue are of course a measure of success. One measure. But other measures are all around like people sitting in a pub discussing how great you are. This couple has both. That's extraordinary, especially for such a new company.
All three of these success stories share some key points. All had humble beginnings that have not been forgotten. All took the leap, dared to believe they could make something that people would buy. All have some basic marketing and social media engagement in place. All are gathering email addresses to keep in touch with prospects and partners. And they all, to a person, are deeply, completely and madly in love with chocolate. That passion comes through. It's in their eyes and in their voices when they talk about what they do for a living. It's in the stories they share. The flavors they invent. The goals they achieve and in watching the reactions of anyone lucky enough to taste their confections.
That is the stuff of a life well lived. Their passion is the secret ingredient propelling UK's emerging chocolatiers to success. Salon du Chocolate was open to the public last weekend in London.